Jane Haddam
May 9, 2021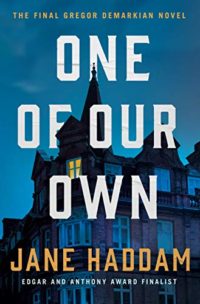 I learned about Jane Haddam's death in the way I'd guess she'd want her readers to learn about it: while reading her last book, One Of Our Own. Her sons added an afterward to let her fans know what had happened. I was sad for the rest of the day.

Haddam, aka Orania Papazoglu, was the creator of the Gregor Demarkian mystery series, thirty novels featuring the aforementioned Gregor and a fairly constant cast of supporting characters. Demarkian is a former FBI agent, the creator of the Behavioral Science Unit, who retires to tend to his dying wife. He becomes a private investigator, although he's never licensed and never advertises. People find him through his contacts with the police and the FBI, and he only undertakes cases with the approval of the police involved (who are usually very, very happy to see him).

Most of the mysteries are complex and involve a variety of suspects doing a variety of things. Haddam was particularly unimpressed by wealthy and powerful people, and even if they're not the murderers, they're frequently guilty of some related crimes. She's also a master at characterization. The books usually begin with a series of vignettes introducing characters who'll be important once the mystery gets going. Some are awful and some aren't, but they're all interesting, and they pull you effectively into the story.

One major element of almost all the books is Kavanaugh Street, where Gregor lives. It's an Armenian-American neighborhood in Philadelphia, full of those supporting characters that make the books come alive. There's the café where everyone, including Gregor and Bennis, have most of their meals. There's the Armenian grocery. There's Father Tibor's church. There are the recurrent minor character vignettes, like the Very Old Ladies who always dress in black and seem to serve as a kind of Greek chorus in the background.

And then there are the major supporting characters, who show up in almost every book. There's Father Tibor, an Armenian Orthodox priest who's Gregor's best friend and occasional conscience or philosophical sparring partner. There's John Henry Jackman, who was the head of homicide at a Main Line police department in book 1 (Not a Creature Was Stirring) and a US Senator from Pennsylvania in One Of Our Own. There are Lida and Hannah and Donna who pop in with food and advice, and who occasionally have major storylines of their own (poor Donna, may I say).

And most of all, there's Bennis Hannaford. Bennis is a suspect in the first book (her father is the victim) and she and Gregor enter a long, long courtship that spreads over a lot of the books. Bennis pursues Gregor, who's still grieving over the death of his wife and oblivious to her interest. Bennis has affairs with various men, including Jackman, and Gregor begins to realize maybe he's interested. Bennis disappears for a couple of books, and Gregor is frantic. Bennis returns and finally, finally the two get together. Bennis and Gregor get married in a surprisingly large wedding. And then, well, they're married for the rest of the series. As a romance reader and writer, I loved that long romance with its ultimate payoff. Gregor and Bennis were perfect.

And now it's over. And I'm sad. At least I appreciate Haddam leaving me with the lovely absurd image of Gregor and Bennis taking their foster son to Disney World. I would love to have seen that. But I've got to grateful for what I have: thirty exceptional mysteries. They're not all flawless (Somebody Else's Music remains my favorite, though), but they're consistently well written. So thank you, Jane Haddam. And, gentle reader, if you're a fan of murder mysteries, pick up a copy of Not a Creature Was Stirring. Trust me, you'll be glad you did.




Want to keep up to date? Bookmark my blog or sign up for emails in the sidebar if you want to be notified when I post another installment. I'm no longer sticking to a strict schedule.

Enjoying these posts? A click of the "Like" button, a comment, or a share is appreciated.

Posted in Blog • | Be The First To Reply!