My Top Ten
March 1, 2021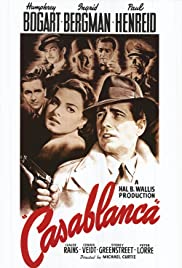 A few years ago, Entertainment Weekly hit a new level on the hubris meter: they listed the 100 best in a variety of entertainment categories, movies, television, plays, music, and books (and therein lies another blog post). Predictably, I disagree with a lot of their choices, but I'm sure I'm not the only one. Everybody has their own hundred best. There is no ultimate list, no matter what Entertainment Weekly says. So in the interests of screwing with the Establishment, I've come up with my own ten best movies list—not twenty-five, not fifty, not a hundred. I make no promises that it's final, and I should point out that it's my list rather than the list. I say this to forestall any complaints from Citizen Kane/Gone With the Wind/Titanic proponents. Y'all undoubtedly would have different choices on your list.

1. Casablanca. The ultimate "movie movie". If you've never seen it (and I didn't until I was in college), you owe it to yourself to check it out. Crisp dialog, twisting plot, and a great hero. And yeah, I know I've called it the ultimate guy romance in the past, but that still doesn't ruin it for me. It just works on most of the levels movies are supposed to work on.

2. Goodfellas. The movie that made me love Martin Scorsese. Yes, it's violent—very, very violent. But it's full of exuberance and energy and bouncy film technique, with possibly the best use of soundtrack songs ever. It's a spectacularly well-made movie, with the longest panning shot I know (don't tell me Touch of Evil; Scorsese does it better).

3. The Silence of the Lambs. You may remember this as another ultra violent movie, but you'd be wrong. There's really only one very violent scene, and it's absolutely necessary for the plot. The rest of the movie is all about dread, and it's maybe the most fearful movie ever made. Plus it has a wonderful performance from Jodie Foster, one that simultaneously emphasizes her vulnerability and her strength.

4. Julie and Julia. Nora Ephron's best as far as I'm concerned. About food and love and female accomplishment. And Meryl Streep is sublime as Julia Child.

5. Bullitt. Why I love Steve McQueen. The plot is so twisty that Robert Vaughn (who played one of the villains) said he didn't understand it even after they finished making it, but this is the ultimate hero movie. Just relax and watch McQueen be McQueen.

6. Butch Cassidy and the Sundance Kid/The Sting. Don't make me choose—I just can't. Newman and Redford were the ultimate buddies who made "buddy movies" possible, and none of the others ever touched these two. Plus both movies are shot beautifully by George Roy Hill—I live nearby some of the settings for Butch Cassidy and Hill did a marvelous job.

7. Nashville. There were a lot of Robert Altman movies I revered and some I didn't like much, but Nashville sums up his multi-character, overlapping plot structure better than any other. And the underlying message about politics and entertainment still holds up today if you can ignore the seventies fashions and hairdos.

8. Some Like It Hot. Go ahead—watch it without laughing. I dare you. That slumber party scene on the train may be sexist as hell, but it's also freakin' hilarious. Billy Wilder's greatest (and yeah, I'm including Sunset Boulevard and Double Indemnity).

9. Singing in the Rain. Tart, fast, funny and the ideal musical. Yes, I know Gene Kelly wasn't as nice as he seems to be on screen. So what? It's still great.

10. North By Northwest. Hitchcock fanatics may prefer Vertigo. But this one has humor and thrills and iconic scenes (the crop duster, the chase across Mt. Rushmore). And Cary Grant playing a weaselly advertising man who's redeemed by chaos.




Want to keep up to date? Bookmark my blog or sign up for emails in the sidebar if you want to be notified when I post another installment. I'm no longer sticking to a strict schedule.

Enjoying these posts? A click of the "Like" button, a comment, or a share is appreciated.

Posted in Blog • Tags: Casablanca, movies, ten best movies, top ten | Be The First To Reply!